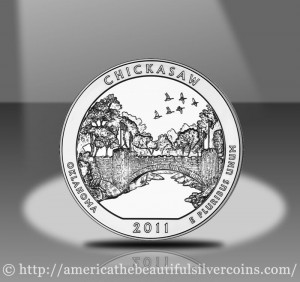 The 2011 Chickasaw America the Beautiful Silver Uncirculated Coin will be the final of five 2011-dated releases in a series of five ounce .999 fine silver collector grade coins from the US Mint. The Chickasaw strikes represent Chickasaw National Recreation Area found in the state of Oklahoma.
This series of uncirculated coins are the numismatic versions of the US Mint's America the Beautiful Silver Bullion Coin™ Program. Both programs will be nearly identical with each being struck from five ounce of .999 fine silver and each containing the same obverse and reverse designs. The only differences will be the fact that the uncirculated coins will contain a 'P' mintmark indicating they were struck at the US Mint's facility in Philadelphia and they will have an uncirculated finish which typically has more detail than the bullion finish.
Both series will also be similar, in design at least, to the Mint's America the Beautiful Quarters® Program. Under the three programs, an image of George Washington, the first President of the United States will be placed on the obverse of each strike. It was originally designed by John Flanagan for the 1932 circulating quarter dollar.
The reverse of the coins in all three programs will showcase designs emblematic of selected sites of national interest from around the United States. One site was chosen from each state, the District of Columbia and the five US Territories, for a total of fifty-six locations to be honored at a rate of five per year until the programs are completed in 2021.
This specific strike honors Chickasaw National Recreation Area of Oklahoma by showing the Lincoln Bridge with birds flying over it. The limestone bridge was built in the recreation area and dedicated on February 12, 1909, the centennial of the birth of Abraham Lincoln. The reverse design was completed by AIP Master Designer Donna Weaver and sculpted by United States Mint Sculptor-Engraver Jim Licaretz.
The United States Mint will sell the Chickasaw National Recreation Area Silver Uncirculated Coins directly to the public.
Chickasaw National Recreation Area of Oklahoma
Chickasaw National Recreation Area is found on the state of Oklahoma and takes its name from the Chickasaw Indian Nation which sold the original 640 acres used to create the site. The location was originally established as Sulphur Springs Reservation on July 1, 1902. It was re-designated as Platt National Park on June 29, 1906 only to be combined with Arbuckle Recreation Area and renamed to its current title on March 17, 1976.
Today, the national recreation area consists of almost 10,000 acres, although roughly 25% of that is covered in water. That water, however, is a big draw to the estimated million plus annual visitors, many of whom participate in activities like boating, canoeing, rafting, etc.
The national park service does not charge an entrance fee to this recreation area. This free admission was part of the original agreement between the government and the Chickasaw Indian Nation.