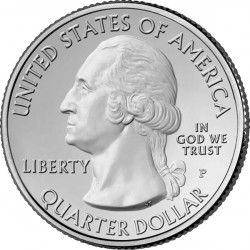 The 2016 Theodore Roosevelt America the Beautiful Silver Bullion Coin will be the fourth strike to appear in 2016 as part of the US Mint's America the Beautiful Silver Bullion Coin™ Program. It also marks number thirty-four out of fifty-six new coins that will be created under the program which debuted in 2010 and runs for eleven years into 2021.
Theodore Roosevelt National Park located in North Dakota will be featured on the obverse of these coins. Design candidates for the coin should appear in early 2015 for review and comment by the Citizen's Coinage Advisory Committee and the Commission of Fine Arts. Their selections will be taken into consideration by the Treasury Secretary who has the final choice.
George Washington, the first President of the United States, will be seen on the obverse of all of the America the Beautiful Bullion Coins. That is because this series is issued as a companion to the circulating quarter dollars that are released at approximately the same time and as such contain the same imagery on both their obverses and reverses. George Washington has been on the circulating quarters since 1932.
Several stipulations in the America's Beautiful National Parks Quarter Dollar Coin Act of 2008, which authorized both series of coins, pertain just to these bullion pieces. One of these requirements dictates that each bullion coin be struck from five ounces of .999 fine silver to the diameter of three inches (no other bullion piece produced by the Mint is currently this large). Also, the Act requires that an edge inscription be placed on the coins showing their weight and fineness.
In all, fifty-six new strikes will be created through the bullion coin program with one representing each state in the union along with Washington D.C. and the five United States Territories (Guam, Puerto Rico, US Virgin Islands, Northern Mariana Islands and American Samoa). A site of national interest was chosen from each of these jurisdictions to appear on a coin. The term "national interest" denotes a site such as a national park, national forest, etc.
Only a network of authorized purchasers will be able to buy these coins directly from the Mint. They, in turn, will then resell them to coin dealers and individuals for a small premium over the spot price of the five ounces of silver contained with them.
Three America the Beautiful Silver Bullion coins will precede the Theodore Roosevelt strike in 2016 and will showcase Shawnee National Forest of Illinois, Cumberland Gap National Historical Park of Kentucky and Harpers Ferry National Historical Park of West Virginia. One will follow the Roosevelt coin that same year and portray a portion of Fort Moultrie (Fort Sumter National Monument) of South Carolina.
Theodore Roosevelt National Park in North Dakota
Theodore Roosevelt National Park located in the badlands of North Dakota is named after the 26th President of the United States who spent a few years of his life running a cattle ranch in the vicinity. While definitely not the first person to visit the area, Roosevelt will long be remembered not only for his influence on the area, but the area's influence on him.
Roosevelt made his first trip to the region in 1883. It was his intent to hunt a buffalo and hired a guide to help him in his quest. Unfortunately for him, but his time the buffalo were becoming much harder to find as they had been slaughtered en masse by commercial hunters for years. Still, Roosevelt pursued on and in doing so started to appreciate the beauty and possibilities that the badlands area had to offer.
Deciding that a ranching interest in the area would be a profitable venture, Roosevelt invested $14,000 in the Maltese Cross Ranch before returning to New York. After both his mother and his wife died within hours of each-other, Roosevelt returned to his ranch to find solace. Wanting an even more peaceful environment, Roosevelt established a second ranch 35 miles north of the local town of Medora and named it the Elkhorn Ranch.
"I grow very fond of this place, and it certainly has a desolate, grim beauty of its own, that has a curious fascination for me," Roosevelt commented of the Badlands. "The Bad Lands grade all the way from those that are almost rolling in character to those that are so fantastically broken in form and so bizarre in color as to seem hardly properly to belong to this earth."
Roosevelt once again returned to New York and started his climb up the political ladder that would soon lead to the Presidency of the United States, but he never quite seemed to forget his love for the area. He sold his ranching interests there, but returned on several occasions for visits and hunting.
The President's interest in nature led him to become a leader in the preservation of area's in the United States for the enjoyment of future generations. While he did sign legislation creating five national parks, the Antiquities Act of 1906 which he signed had a broader effect. Under its powers, later presidents would create 105 national monuments. Forty-nine of these monuments are still in operation today, with most of the others being reclassified by Congress as national parks or other sites of national interest.